In this post, we'd like to present you to the one and only dancing ((#ougn18)) APEX developer Alex Nuijten.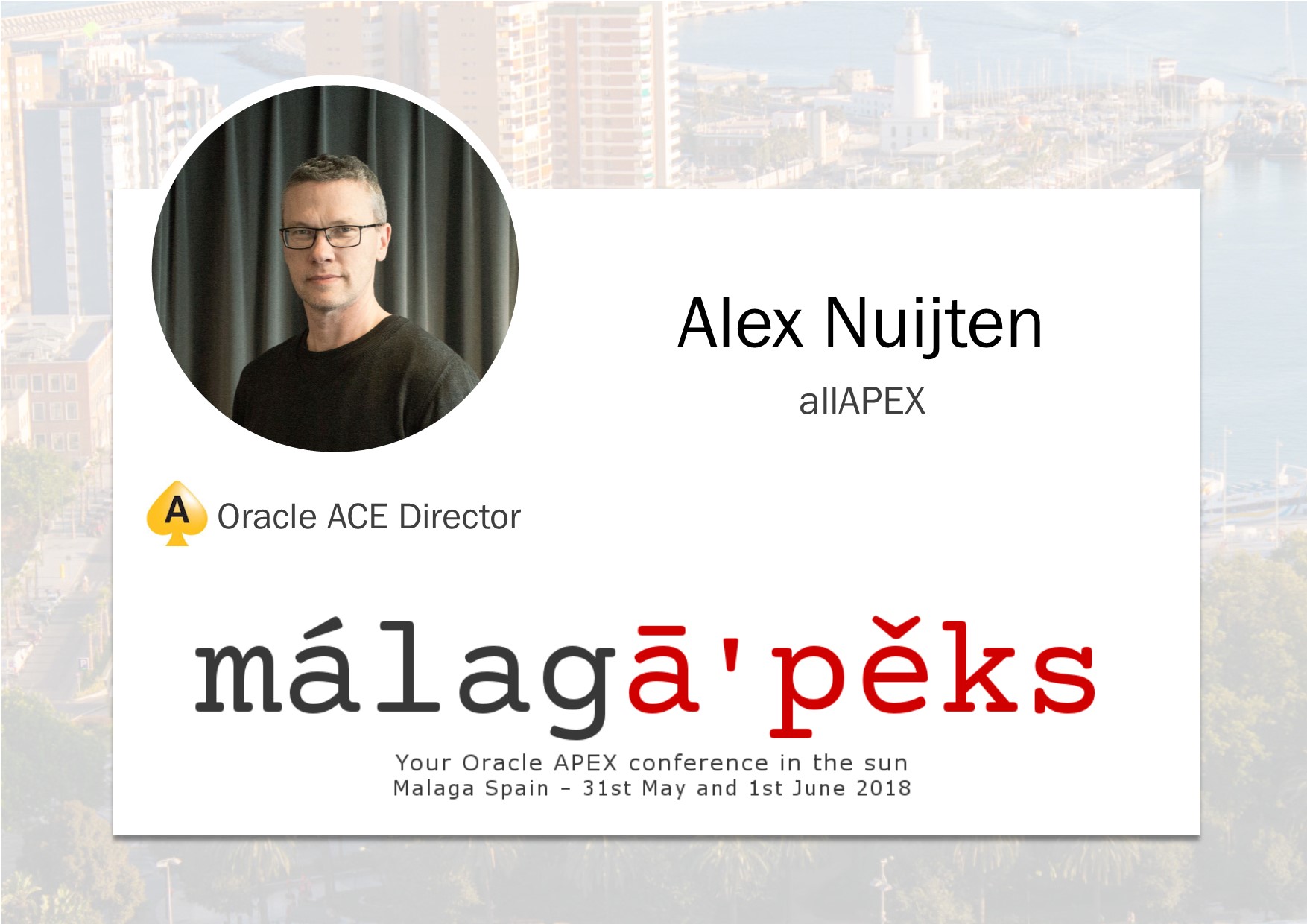 This very well known speaker, awarded the Oracle ACE Director membership back in August 2010, is an independent consultant (allAPEX), specializing in Oracle database development with PL/SQL and Oracle Application Express (APEX) and Alex is a member of the Smart4APEX team. Besides his consultancy work, he conducts training classes, mainly in APEX, SQL and PL/SQL. Alex has been a speaker at numerous international conferences, such as ODTUG, Oracle Open World, UKOUG, IOUG, OUGF, BGOUG, OGH APEX World and OBUG. For his presentations, Alex received several Best Speaker awards. He wrote many articles in Oracle related magazines, and at regular intervals, he writes about Oracle Application Express and Oracle database development in his blog "Notes on Oracle" (nuijten.blogspot.com). Alex is also a co-author of the following books "Oracle APEX Best Practices" (published by Packt Publishers) and "Real World SQL and PL/SQL" (published by Oracle Press).
For #MALAGAPEX18, he'll be talking about Structuring an APEX application. Here are the details:
Creating beautiful applications with APEX is easy, especially after the introduction of Universal Theme. It is easy to follow the wizards and drop SQL and PL/SQL all over the place in your application thereby creating a maintenance nightmare. When a table is changed, which pages are affected? How can you easily find out? Getting the structure of your application right requires a method to follow. In this session, I will share my thoughts on structuring your APEX application. This session will focus on just that: build robust applications; leverage views, packages, instrumentation, etc.
If you don't want to miss anything of what Alex has to say, don't forget to follow his Twitter account at @alexnuijten. For sure, you all will enjoy the talks of this dancing APEX developer.
Don't forget to stay tuned to our Twitter account (@malagAPEX) to get the latest news about #MALAGAPEX18!