In this occasion, we want to talk about a session shared by two of our great speakers, Oracle ACE Director both of them: Alex and Roel. Go to their speaker pages to get more details about their other sessions for malagAPEX18.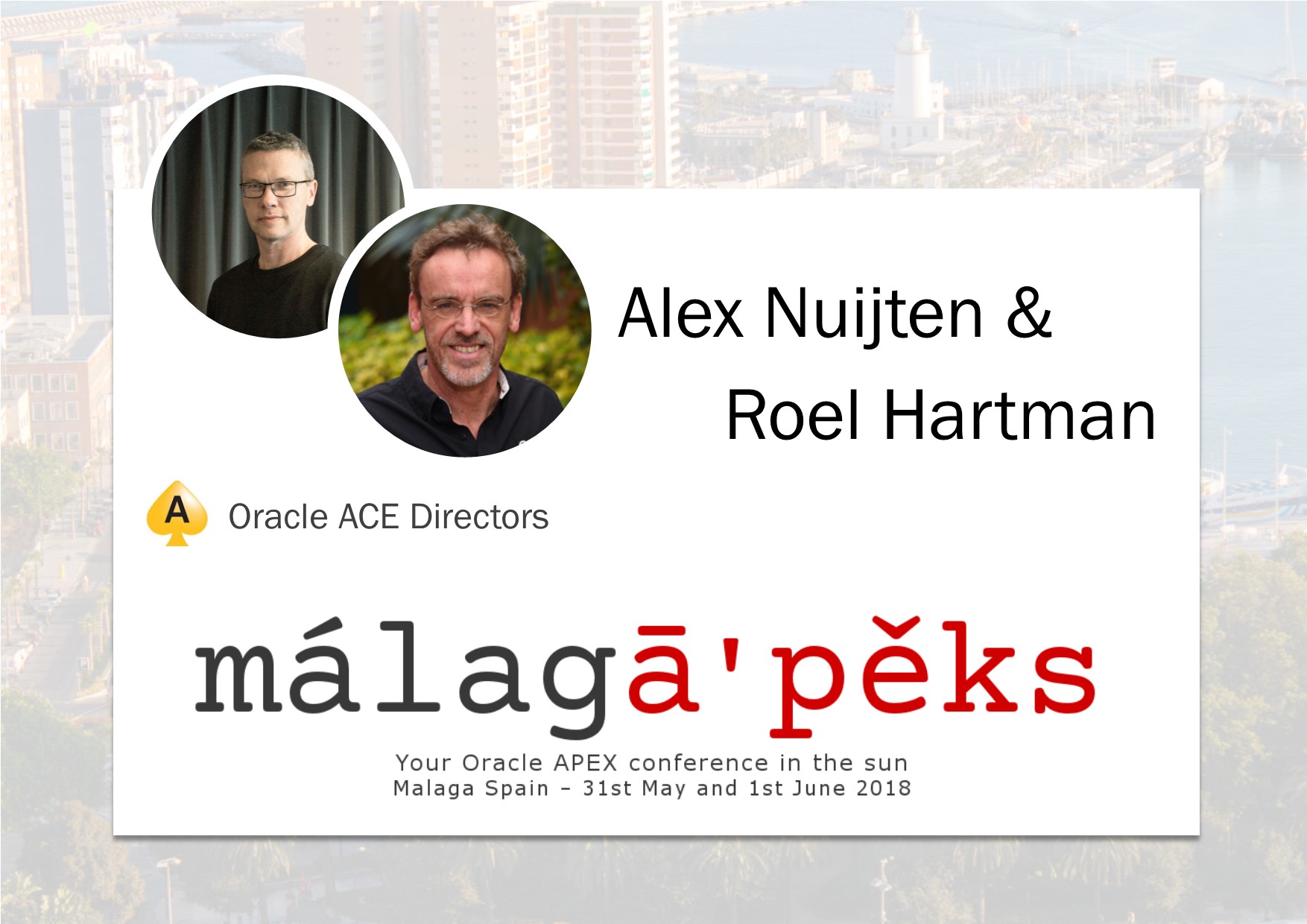 Such a long title as Benefits of developing APEX applications on the Exadata Express Cloud Service worths, at less, an explanation:
"When you develop an APEX application, it doesn't matter if the database is in the Cloud or on Premises" is often heard, however this is not entirely true.

When your database is in the Oracle Cloud there are some things that you need to consider. Part of the Oracle Database Cloud is the Oracle Developer Cloud Service. Why not take full advantage of that? It has a lot of bakedin goodies, such a Build server, Code repository and even SQLCl for your own scripts.

In this session we will show you how to set up your development environment with Oracle Database Exadata Express Cloud Service, Oracle Developer Cloud Service, Oracle SQL Developer, GIT and all other bits and trinkets that we used for a recent project.

Creating an APEX application on premises is different than building in the cloud. One of these differences is that you get a fully integrated environment for developing, version control and deployment.

From experience we have worked with the Developer Cloud Service when we created ClocWise.org Sometimes it is very easy, sometimes it is … not.
If you don't want to miss anything of what Alex or Roe have to share, don't forget to follow their Twitter accounts at @alexnuijten and @RoelH. Run to get your tickets if you haven't got them already here, and don't forget to stay tuned to our Twitter account (@malagAPEX) to get the latest news about #MALAGAPEX18!